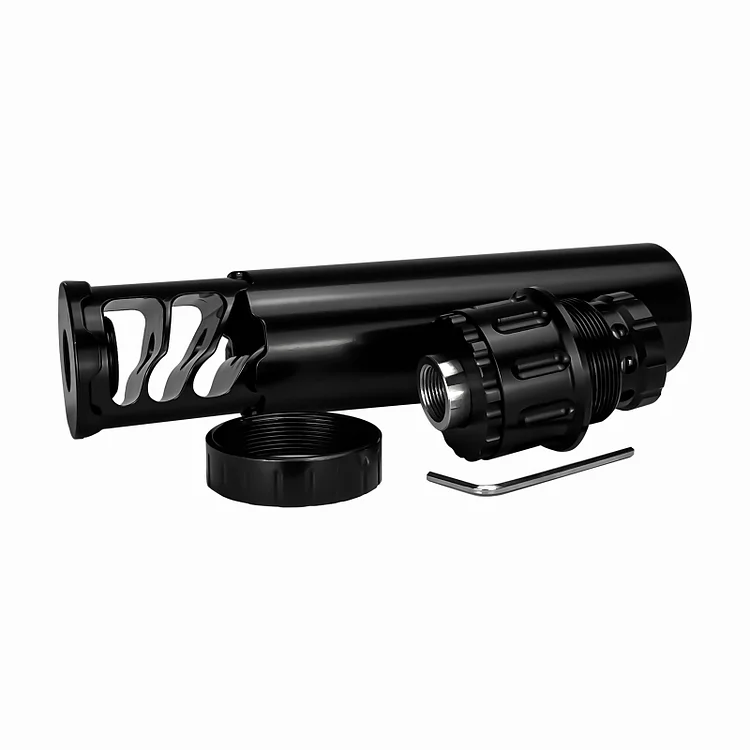 Model Number: Monocore Solvent trap with booster kit
Fuel Filter For: Napa 4003 Wix 24003
Material: Aluminum & Stainless Steel
Booster Kit Thread: 1/2-28
Booster assembly includes piston
Booster threads are 1-3/16 x 24.(1.1875x24)
Weight: 0.12 lbs
Dimensions: 2 x 2 x 2 in
Size.
1/2 x28
9mm Caliber Beretta, Glock, CZ, FNH
Material: Stainless Steel and Aluminum
Solvent Trap:

Material:Full SS 304, hard type III Anodized Coating for increased durability
1.5" OD
Internal hole diameter: 0.380'' ID, 9.5mm
Color:
raw silver color or
black
Industry standard thread: 1-3/16x24

Total weight: 500g

Great for a fuel filter, a dryer, a cleaner.
- Strength: since it's a solid piece.
- Reliability: fewer moving/shifting parts.
- Maintenance: it's easier to take apart/clean.
- Accountability: no small parts to get lost.
1x Monocore 1/2x28 Single Core Filter
1x Aluminum Steel Black Cap
1x
Stainless Steel
Spring
1x Stainless Steel Piston